What is Professional Home Care?
Home Care is broadly defined as a professional service that helps people who need assistance in order to live at home.  This includes elderly that have lost the ability to fully care for themselves, people with long term chronic health issues or may be recovering from a severe illness, and people with special needs or a disability.
Home Care comes in three basic forms:
1. Non-medical (personal home care & home health)
2. Private Duty Nursing or
3. Medicare certified in-home health care
Non-medical home care is the type of home care most often sought after to care for elderly persons in their home. It is the type provided by O'Connell Care.
Non-medical home care includes assistance with the everyday tasks of daily living like bathing and dressing, meal preparation, and household tasks to enable independence and safety in the home. In cases where a client's abilities are more impaired, such as persons with advancing dementia, more extensively trained aides will assist clients with daily living tasks as well as provide monitoring of vital signs, medication reminders or providing supervision for Dementia or Alzheimer's disease.
Private Duty & Medicare certified home health care are both "licensed skilled care services" provided by medical professionals i.e. nurses, physical therapists, counselors etc. It involves skilled nursing and short-term rehabilitation to help someone recover to a normal healthy condition while at home. It generally comes after a doctor's visit or a hospital stay. A good example of Medicare certified home health care would be home visits by a physical therapist after an injury.
Is Non-medical Home Care regulated in Massachusetts?
Massachusetts is among a number of states that do not license or regulate the private-pay, home-care industry. Private-pay agencies do not work under either a federal or state contract but will provide companionship, housekeeping, cooking and other daily living services to families that pay the costs themselves.  Anyone can start a private pay home care agency. There are no requirements for training, certifications, or bonding, though many agencies provide all of these. O'Connell Care provides extensive training, certifications, and is fully insured and bonded.
Agencies that provide medical and (or) non-medical home care services paid for by Medicare or Medicaid, fall under federal regulation and state oversight. These account for roughly only a third of the estimated 400 home-care agencies doing business in Massachusetts (according to the New England Center for Investigative Reporting). O'Connell Care is a major contract supplier of Medicaid covered services.
While the private pay sector is unregulated there are competency certifications and standard practice guidelines issued by the Massachusetts Home Care Aide Council. Many agencies follow them. O'Connell is an active member of the Home Care Aide Council and supports its guidelines program.
Types of Home Care Aides and their Certifications
Although the volume and breadth of training appropriate for home care aides is broad and never ending, there are three primary certifications.
Personal Care Attendant (PCA) This designation is for persons entering the field and applies to anyone performing home care.
Personal Care Homemaker Aide Certificate. (PCHM) This training teaches the basic skills needed to care for an individual safely and effectively in their home. Personal Care Homemakers assist with housekeeping, shopping, laundry, essential errands, basic meal planning and preparation. They also focus on being a companion to a home bound client, providing emotional support and security.
Home Health Care Aide. (HHA) This advanced training adds the basics of anatomy, nutrition, infection control, communication, and safety in a homecare setting. HHA's receive training on assisting with therapies and emergency procedures, family issues/concerns when dealing with an aging parent, and the impacts of loss and death. HHAs training requirements consist of a minimum of 75 hours of classroom training, 16 practicum hours and 12 hours of continuing education over a 12-month period. They generally work under the supervision of a licensed nurse.
Regardless the level,  Professional Home Care is a career opportunity providing people the chance to combine a desire to help others with natural talent to care and nurture.  Their talent towards care is often developed raising their own family, caring for younger  siblings or caring for elderly family members at home themselves.
Does Home Care require a Doctors Order?
Personal Companionship and Daily Living Care does not need to be prescribed by a doctor. This type of care is determined by the family or the primary caregiver. Care can be provided on an interim or ongoing basis on a schedule that meets a client's needs, from a few hours a week, up to 24 hours a day, 7 days a week.
How are Home Care Services Paid?
Private Pay: Personal care and companionship services are usually paid directly by the person receiving care (private pay), or through long-term care insurance or in certain circumstances, Medicaid. Other funding sources include Veterans benefits and workers' compensation in the case of work-related injuries,
Medicare: Medicare will cover short term in-home skilled nursing or rehabilitation services while you are homebound and recovering from an injury or illness.  Medicare does not pay for home care in the case of diminishing ability due to age or long-term illness.  It does not cover 24-hour-a-day care at home, or pay for services such as help with shopping, cleaning, and laundry or personal care assistance like bathing, dressing,  using the bathroom, dementia supervision etc.
Medicaid: Medicaid eligibility for home care services is determined by each state separately and there are usually different requirements for institutional vs. Medicaid funded home care.   A rule of thumb for Medicaid is that the applicant must be 60 years or older, have an annual income of roughly $28,000 or less ($40,000 for a couple), and countable assets of not more than $2,000.  If you are seeking home care service and believe you may qualify for Medicaid assistance an O'Connell Care Coordinator will be happy to assist you and refer you to the appropriate Medicaid source.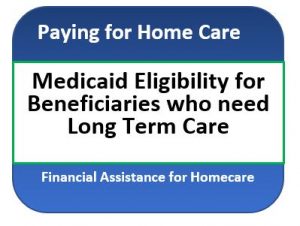 Veterans: As a Veteran, you may be able to get assisted living, residential (live-in), or home health care through VA. Some home care services are covered under your standard health benefits if you are signed up for VA health care. You may still need to pay a copay for some covered services.  If you are a veteran seeking home care service an O'Connell Care coordinator will be happy to assist and can direct you to more information on VA options.