About our Caregivers
We're More Than Just Care Taking
Empathy, perception, reliability, compassion.  These are qualities we look for when recruiting new members of our aide team.  In addition to these characteristics our applicants undergo thorough pre-employment screening for drug use, criminal background check, and personal referencing prior to  hire.
New staff receive orientation to the organization and the "O'Connell Way". Continuing training to increase their knowledge and skills is an important part of that philosophy.
Advancement at O'Connell is influenced by a person's training, credentialing, and record of dependability and performance.  This approach often leads to above market compensation.  Our philosophy of compensation commensurate with value leads higher retention rates,  helping us assure the best possible in-home care to our clients.
Types of Care
A Team Member for Each Situation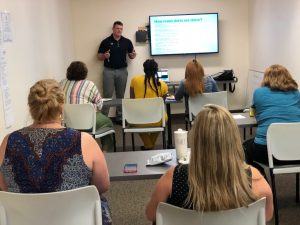 PCA: Anyone beginning a career in homecare is known as a PCA or Personal Care Attendant. At O'Connell, newly recruited PCA's receive training in personal care and companionship before being assigned to clients for even basic homemaking work.
HM: The most common path for aides to advance and access a wider range of assignments is to train for Companion & Homemaker Aide Certification (HM).  Homemakers are trained to assist with housekeeping, shopping, laundry, essential errands, basic meal planning and preparation, and being a companion to a home bound client.
PCHM: Aides can further advance their skills by taking additional training in basics of anatomy, nutrition, infection control, communication and safety in a homecare setting and earning the Personal Care Homemaker Certification.
HHA:  The Home Health Aide Certification is a home care aides most advanced certification.  Earning an HHA Certification requires 75 hours of specialized advanced training expanding and deepening their care knowledge and applying practical experience to strengthen their confidence and ability to care for others in the "at-home setting". HHA certification training is delivered by state sanctioned organizations. There are HHA programs with the American Red Cross or at a number of local community colleges throughout the state.  In addition to the duties of the PCHM, the HHA can attend to more complex diet regimes, handle simple dressing changes, assist with medication, braces and artificial limbs, and take basic vital signs.  O'Connell Care encourages aides to advance their skills and certifications and provides incentives and financial support programs.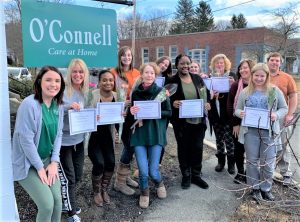 CNA: Another path for care aides is training as a Certified Nurse Assistant. Although many CNA's work in home care,  their training regime is more specifically targeted to working under the supervision of nurses in skilled nursing facilities, rehab centers, and hospitals.  CNA's must sit for a state examination following the training. Upon successfully passing the exam and receiving certification they register with the Commonwealths Nurse Aide Registry.
Nurses: Care provided by our aides is supervised by an equally excellent team of Registered and Licensed Practical Nurses.
Our nurses visit new clients to develop individual care plans. They record medical histories and symptoms. Our nurses oversee hospital to home transitions, review case notes, supervise client's daily regimens and, if necessary, adjust Patient Care Plans.
Perhaps most important of all, our nurses help clients and families cope and manage chronic illnesses and are available to counsel or advise.
To learn more about O'Connell and our Care-at-Home Services Contact Us